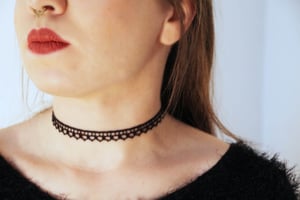 €

12.90
CLICK TO SEE IN LARGE
[FR Ras de cou Choker en dentelle en coton noire. La taille du ras de cou convient à un tour de cou de 31,5 cm, il est ajustable par une chaînette.
Contactez-nous lors de votre achat pour une plus grande taille de tour de cou et / ou pour du sur mesure (prix identique).
Assemblé à la main sur commande sous un délai d'1 à 2 semaines avant expédition. Tous nos produits sont vendus avec une pochette cadeau, prêts à offrir !
Pretty Badly expédie de la France en Lettre Suivie (française ou internationale selon votre adresse).
Pour plus d'informations merci de lire nos conditions générales de vente : http://prettybadly.bigcartel.com/faq
[EN] Lace black cotton choker.
The choker is designed for a size neck of 31,5 cm, 12 in. The choker is adjustable thanks to a chain.
Please if you wish a bigger size neck indicate us when you proceed to the order (price still the same !)
Handmade to order, please allow 1-2 week before shipping.
All our products come in a nicely crafted wrapping, so they are ready to be given as gifts !
Pretty Badly ships from France. Orders are shipped within 1 week. Shipping takes approximately 3 to 10 days inside Europe, 5 to 20 days for the rest of the world.
For more information, please read our shop policies : http://prettybadly.bigcartel.com/faq